Workshops
Abbey Road Institute, the educational arm of the world famous Abbey Road Studios in London, have invited Peter to present numerous seminars and workshops over the past year. The 4 – 5 hour seminars cover the central themes of Music Production, Mixing and Recording.
Recent public presentations and educational seminars include
* Abbey Road Institute – Mix workshop ft Gilbert O'Sullivan PT session, Frankfurt
* Synapse Knowledge – Seminar 'Defining Mood' at the Meet Factory, Prague
* Recording workshop at Sono Studio, Prague
* Guitar Summit – Guitar Recording presentation, Mannheim
* Abbey Road Institute 4 x Advanced Mixdown Workshop, Frankfurt
10/02/2016 – Evening seminar with Peter Walsh 'Defining Mood'
www.fnp.de/lokales/frankfurt/stadtgefluester/Der-Mann-der-den-Ton-bannt;art51666,1857275
Peter examines and shares his philosophy and technique on how to get that 'special something' out of each production.
Sharing experiences and anecdotes from a career spanning over 35 years, Peter discusses his approach to the art of music production and sound engineering.
Using actual pro tools sessions, from Simple Minds, Scott Walker, and Gilbert O'Sullivan, Peter covers a range of subjects including preproduction, project planning, studio psychology,
song arrangement, dynamic timelines, forced work flow, EQ processing, effects and mixing tips.

'My aim has always been to give each production a particular, individual character – a special sound quality, which will excite the listener's senses and touch a place in their hearts'. There is a consistency of approach which intuitively defines the sound and placement of each instrument, where the vocals sit in the mix, and the textures used to create atmosphere or MOOD.'
—————————————————————————————————————————————————————————————-

10/04/2016 – Frankfurt Musikmesse seminar 'Recording Drums for a Rock Production'
The art of recording drums split into 4 easy to follow steps.
From session preparation and pre production, through to choice of studio, equipment specification, microphones and mic placement and finally equalisation and dynamic processing, Peter sheds light on one of the most important recording processes of any production.
—————————————————————————————————————————————————————————————-
20/05/2016 – Abbey Road Institute Mixing Workshop.
Illustrating the art of mixing, Peter uses the original multitracks from the iconic Simple Minds album New Gold Dream,
Covering topics such as
– Console set up 'in and out of the box' –
– Use of reverbs, delays, and modulation effects to create depth and dimension.
– Use of Equalisation to create definition and focus.
– Applications of dynamic processing including limiting, compression, expansion and gating.
Other mix seminars include his recent work with singer songwriter legend Gilbert O'Sullivan and the radio hit 'I Guess I'll Always Love You'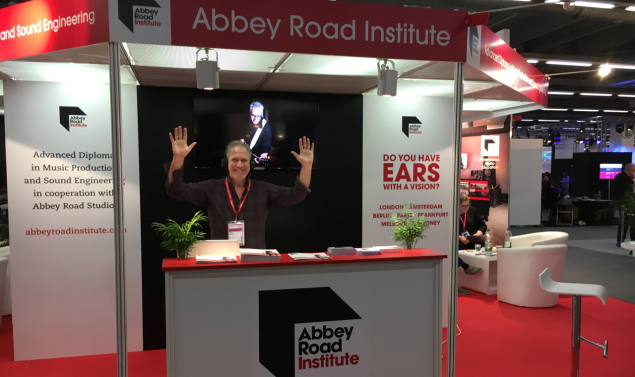 —————————————————————————————————————————————————————————————-
Tonmeistertagung 2016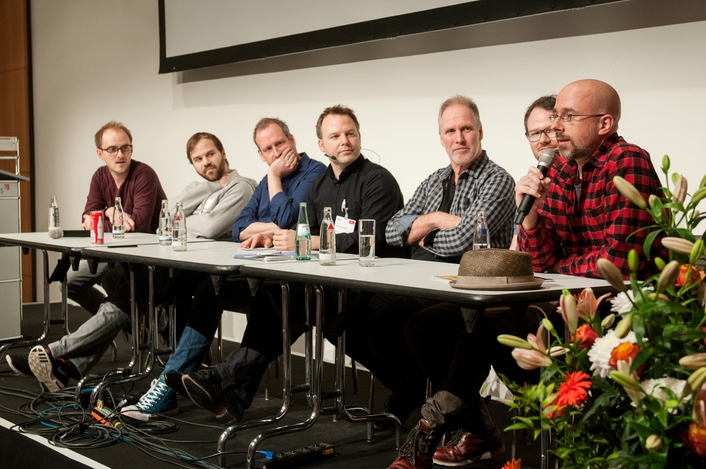 The Tonmeistertagung is a top-class expert meeting for audio professionals, producers, artists, vendors, suppliers, developers, and scientists. It provides a valuable impetus to professional audio experts from all sectors of the industry, as well as an overview of the latest trends in product development, research and application. The Tonmeistertagung builds primarily on the quality and authenticity of the information. It conveys first-hand industry information in personal talks. Qualified contact persons available for questions on location, as well as the possibility to exchange ideas with colleagues on practical issues, make it indispensable as a source of knowledge.
Areas covered include broadcasting, film, video, recording production as well as networked audio, interactive media, distribution and program exchange, stage and events, production of hardware and software, research and development, and education and training.
About the VDT
Verband Deutscher Tonmeister (VDT) is the German Association of Sound Engineers, a meeting place for audio professionals who work in the arts, media and communication with the desire to preserve and increase the aesthetic and technical quality of their products. The association represents membership interests in a professional, social and business context, and is open to the global community and a broad range of professions. Its over 2 000 members include sound professionals from the recording production, radio broadcast, film, television, multimedia and theatre industries, as well as representatives from the media, equipment and event industries, research and development, and education. Students comprise about 10% of the membership.
—————————————————————————————————————————————————————————————-
PRODUCER – ENGINEER HIGHLIGHTS

Peter Walsh at Cata Studios, Madrid. Photo taken by Ivan Valdes
2015
Co-Producer – Recording Engineer & Mixer – Andrés Suárez 'Mi Pequeña Historia ' #2 Spanish album chart
Co-Producer – Recording Engineer & Mixer for film Sountrack – 'Childhood Of A Leader'
Winner of 'Luigi de Laurentiis' Venice Award for a Debut film and Best Director Horizons award
Co-Producer – Recording Engineer & Mixer – Gilbert O' Sullivan 'Latin Ala G '
2014
Co-Producer – Recording Engineer & Mixer – Presuntos Implicados  'La Noche 2 – Desde La Cuidad De México' #1 iTunes Mexico
Co-Producer – Recording Engineer & Mixer Scott Walker / SunnO))) 'Soused' – #30 in UK Album Chart
2013
Co-Producer – Recording Engineer & Mixer – Andrés Suárez 'Moraima' #5 Spanish album chart

2012
Co-Producer – Recording Engineer & Co-Mixer – Scott Walker 'Bish Bosch'
Mixer Eva Quartet / Hector Zazou 'The Arch', ft Laurie Anderson, Ryuichi Sakamoto, Robert Fripp, Bill Frisell #2 World Music Charts Europe
2011
Co-Producer – Recording & Mix Engineer – Scott Walker 'Duet For One Voice'
Live Sound Production at Royal Opera House, London
Co-Producer – Recording Engineer & Mixer – Miguel Bosé 'Cardio Tour' #15 Spain, #14 Mexico
2010
Producer – Recording & Mix Engineer – Motel 'Multicolor' #16 Mexico
2008
Live Sound Production / Mix Engineer, Scott Walker 'Tilting & Drifting' at The Barbican, London, ft artists including Damon Albarn, Jarvis Cocker, Gavin Friday, Dot Allison & 40 piece orchestra
2007
Producer – Recording & Mix Engineer – Miguel Bosé 'Papitour' #1 Mexico, #3 Spain
Producer – Recording & Mix Engineer – Cristina Dona 'La Quinta Stagione'
Album of the Year – 'Musica e Dischi', Italy
2005
Co-Producer – Recording Engineer & Co-Mixer – Scott Walker 'The Drift'
2003
Co-Producer – Co Composer – Recording & Mix Engineer – Benny / Miguel Bosé
'Si Puedo Volverte A Ver' #1 Mexico
2002
Awarded Latin Grammy for 'Best Male Pop Album' as Producer – Recording & Mix Engineer
Miguel Bosé album 'Sereno' 2x Platinum in Spain
2000
Robert Plant & Afro Celt Sound System – 'Further in Time' topped the US World Music Charts for 16 weeks
Co producer – Recording & Mix Engineer – PULP 'We Love Life' UK#6
1997
Co-Producer – Recording & Mix Engineer – Simple Minds 'Neapolis'
1995
Co-Producer – Recording Engineer & Co-Mixer – Scott Walker 'Tilt'
1993
Live Mix Engineer for the Peter Gabriel 'Secret World Tour'.
Co-Producer – Recording & Mix Engineer Peter Gabriel – CD / Video 'Secret World Live' – RIAA Gold Disc and awarded a Grammy
1990
Producer – Recording & Mix Engineer – La Union Live CD – 2x Platinum Spain
1986
Producer – Recording and Mix Engineer – Alphaville 'Afternoons In Utopia' Gold disc Germany & France.
1985
Co-Producer – Recording & Mix Engineer – Scott Walker 'Climate of Hunter'
Producer – Recording and Mix Engineer – The Church 'Heyday'
Vinyl inner groove message -"YOUNG ENGLISH KNOB TWIDDLER MEETS THE BONDI BOYS"
1984
Co-Producer & Mix Engineer – Peter Gabriel 'Plays Live' – RIAA Gold Disc
1983
Producer – Recording & Mix Engineer – Simple Minds breakthrough album 'New Gold Dream', including 3 hit singles – UK Gold Disc
1982
Assistant Producer – Recording & Mix Engineer – Heaven 17's debut album, 'Penthouse & Pavement' – UK Gold Disc