In the Studio with Gilbert O'Sullivan
Wednesday, October 28th, 2015
Filmed by Ivan Valdes during the recording of Gilbert's latest album 'Latin ala G'.
With live footage from the actual recording sessions in Madrid.
Part 1 www.vimeo.com/133375986
Part 2 www.vimeo.com/133375987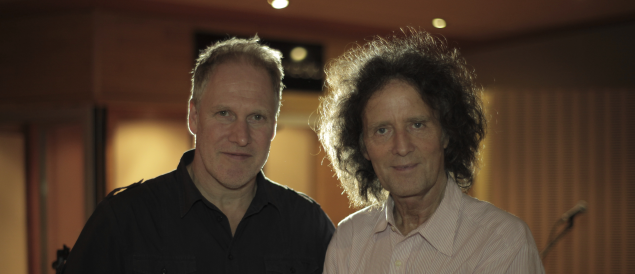 Peter Walsh with Gilbert O'Sullivan – Cata Studio. Photo – Ivan Valdes
Gilbert O'Sullivan
'Latin Ala G' – Union Square / BMG
Gilbert O'Sullivan topped the UK and US singles charts in the 70's, becoming the biggest-selling solo artist in the world. Today, he continues to be regarded as one of the world's finest songwriters, his songs covered by artists from across the musical spectrum, including Morrissey, Neil Diamond, Diana Krall and Michael Bublé.
Recorded in Madrid, with a cast of exemplary Spanish musicians, the album stems from O'Sullivan's love of Latin music from the early 60's, when Brazilian artists such as Astrud Gilberto and Sergio Mendes began to gain worldwide popularity.
Musician credits
Ray O'Sullivan – Acoustic Piano, Electric Piano
Alfonso Pérez – Acoustic Piano, Electric Piano
Pedro Barceló – Drums
Luis Dulzaides – Percussion
José Antonio Ramos – Bass Guitar
Josep Salvador – Nylon acoustic Guitar
Ovideo López – Acoustic / Electric Guitar
Borja Montenegro – Acoustic / Electric Guitar
Rubén Rebolleda – Accordion
Geoff Whitehorn – Electric Guitar on 'Hell No'
Peter Walsh – Celeste, Electric piano, additional background vocals.
Ayala–Guest Vocalist on 'I Guess I'll Always Love you'
Ayala and Ben Cork – Background vocals
Clinton Outten – Background vocal on 'That's The Kind Of Love I Need'
Helen Marie O'Sullivan – Additional background vocals on 'Singapore'
Musical Director – Alfonso Pérez
Strings arranged by Nick Ingman, performed by The Royal Philharmonic Orchestra
Follow the link to Gilbert's official site for more info on concerts and the upcoming release
www.gilbertosullivan.net/in_concert/tour_dates.htmwww.gilbertosullivan.net/in_concert/tour_dates.htm">www.gilbertosullivan.net/in_concert/tour_dates.htm