Upcoming releases
Wednesday, January 29th, 2014
BELONOGA
"Through the Eyes of the Sun"

Gergana Dimitrova, a.k.a. BELONOGA, is best known as one of the magnificent singers from 'Le Mystere Des Voix Bulgares' and 'Eva Quartet'.
Produced by Dimitar Panev – Recorded by Alex Nushev – Mixed by Peter Walsh –
Belonoga's deep knowledge of Bulgarian folklore and her encounters with the ancient musical cultures of Australian Aborigines and African Pygmies over the years have led to a combination of musical ideas provoked by the primordial and structured by the melodious. Thus, an extraordinary new music, extremely rich in emotions, came into being – a dialogue between the archaic culture of the Aborigines and Pygmies and the melodies of Bulgarian songs.
The foundation of her work – the human voice – sought the direct connection between them in a new musical world. Belonoga has created a whole musical universe.
A key role in the project was also played by Alex Nushev, who helped Belonoga to realize her ideas over years of studio work. The rest of the participants include Kostadin Genchev – one of the best Bulgarian kaval players and founder and director of the groups Bulgara and Wild River; Violeta Petkova – gadulka (rebec); Dimitar Tishev – accordion; Dimitar Hristov – tambura (pandore); and Greek multi-instrumentalist Vangelis Karipis – percussion. Special guests in the project were the magnificent Armenian singer and musician Hayg Yazdzhian (percussion, voice) and jazz doyen Anatoly Vapirov (saxophone). The project was mixed by Alex Nushev and Peter Walsh (who also worked on 'The Arch,' as well as with Peter Gabriel, Pulp, Stevie Wonder, and others).
label: www.elen-music-label.com
…………………………………………………………………………………………………………………………………………………………………………………
Presuntos Implicados
La Noche 2 – Desde La Cuidad De México


Co produced, recorded and mixed by Peter Walsh for Warner Music Mexico.
Released in Mexico November 2013.
In its first week of release – #1 on iTunes Mexico, #2 on iTunes Columbia, and #5 on iTunes Chile.
Recorded live in Mexico City  at the Plaza Condesa in May 2013, this double cd /dvd features special guests Leonel Garcia, Santiago Cruz, Sandoval, and Tommy Torres.
Follow the link below to watch the video of the first single
'Nunca Es Para Siempre'
www.video.mx.msn.com/watch/video/nunca-es-para-siempre-presuntos-implicados/64s1dqco?src=FLPl%253ainfo%253atitleBar%255elink%253auuids&from=es-MX"
For more info on La Noche 2 and Presuntos Implicados follow the link:
www.facebook.com/PRESUNTOS?hc_location=stream
Peter was also involved in the mixing of La Noche 1, originally released in 1995
………………………………………………………………………………………………………………………………………………………………………………….
James Stevenson
Everything's Getting Closer To Being Over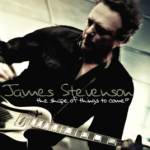 For those not familiar with James's work – he is the multi talented guitarist who has rocked with many famous names over the years…
Kim Wilde, Chelsea, Generation X, Gene Loves Jezebel, The Cult, and more recently The Alarm, Glen Matlock and the Philistines, International Swingers and Scott Walker
Have a look at The Alarm's blog
www.http://inthepoppyfields.blogspot.de/2013/01/james-stevenson-shape-of-things-to-come.html
For more info and latest news on James go to