The Arch – World Music Album of 2013 Readers' Poll
Friday, December 13th, 2013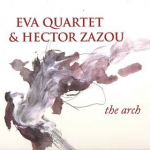 The Arch is the last album I mixed for my dear friend Hector.
We shared some great times together.
We made some beautiful music together.
We worked in some fantastic locations
….and we drank some wonderful wine together..
Hector sadly passed away before completing this mammoth project.
I hope that I have mixed it as he would have wanted..
Merci Hector!!
Featuring special guests
Laurie Anderson (USA); Sofia String Quartet (Bulgaria); Bollywood
String Orchestra (India); Roberto Cechetto (Italy); Cecilia Chailly (Italy);
Kaushiki Charkaborty (India); David Coulter (UK); Diego Amador (Spain);
Diva Reka Band (Bulgaria); Antoni Donchev (Bulgaria); Robert Fripp (UK);
Bill Frisell (USA); Djiavan Gasparian (Armenia); Andrea Guzzoletti (Italy);
Mehdi Haddab (Algeria); Dimiter Hristov (Bulgaria); Kostadin Kostadinov
(Bulgaria); Radosvet Kukudov (Bulgaria); Zoltan Lantos (Hungary);
Nils Petter Molvær (Norway); Carlos Nunez (Spain); Dobri Paliev (Bulgaria);
Stoyan Pavlov (Bulgaria); Violeta Petkova (Bulgaria); Renaud Pion (France);
Minna Raskinen (Finland); Bill Rieflin (USA); Ryuichi Sakamoto (Japan);
Stefano Saletti (Italy); Daniel Spassov (Bulgaria);
Janne Strömstedt (Sweden) etc.
Produced by Hector Zazou & Dimiter Panev
Mixed by Peter Walsh
Review in Songlines magazine
The sonic world of this album is stunningly beautiful…… A wonderful, endlessly absorbing masterpiece
www.songlines.co.uk/topoftheworld/top-of-the-world.php
Interview with Dimiter Panev in The Vagabond magazine
www.vagabond-bg.com/index.php?option=com_content&view=article&id=2083&catid=#.USeKz6XD008
Elen Music – Info on Eva Quartet