Andrés Suárez 'Moraima' enters Spanish charts at #5
Saturday, April 27th, 2013
Madrid 24th April 2013. Andrés Suárez enters the Spanish charts at #5 with the album – 'Moraima'.
Co produced, recorded and mixed by Peter Walsh for EMI Music, this is the first live album by the artist from Ferrol, and represents the leading edge of a new generation of singer songwriters in Spain.
Andrés Suárez ha entrado hoy directamente al nº 5 de la lista de los álbumes más vendidos en España con Moraima. Es el primer disco grabado en directo del artista de Ferrol y el gran debut en listas de este cantautor revelación, que representa y lidera a una nueva generación de cantantes y compositores españoles que emerge con fuerza, con aliento creativo y una indiscutible calidad en músicas y textos.
www.andressuarez.es/andres-suarez-revolucion-y-sorpresa-en-el-mundo-de-la-musica-con-su-album-moraima-top-5-en-ventas/">
Recorded at Madrid's Cata Studios by Peter Walsh in December 2012, Andrés Suárez is supported by an 11 piece band, directed by Alfonso Pérez on acoustic grand piano.
The album is co produced by Alfonso Pérez & Peter Walsh… a collaboration which has already seen major success with artists such as Miguel Bosé (Sereno) and Najwa (El Ùltima Primate)
The band line up is
Alfonzo Pérez acoustic grand piano, Andrés Litwin drums, Luismi Baladrón bass, Jan Ozveren electric/acoustic guitar, José Barragán electric/acoustic guitar, Luis Dulzaides percussion, Marino Saiz violin, Iván Martin viola, Josep Trescolí Sanz cello, Carlos Martín trombone, and Oscar Cordero flugel horn.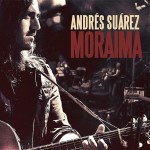 For more info on Andrés Suárez please go to